UPDATE: EIRE6 – Howth Head – 13 September 2018
The location for Howth Head has been updated following updated information provided to me by a poster on Boards.ie. A lot of the early information for this site came through posters on that community website and again, it has helped a lot.
Update: EIRE08 – Bray Head – 13 September 2018
This sign has been cleaned up and restored. I am really, really hoping to see it the next time I fly into Dublin.
Update: EIRE30 – Mizen Head – 8 August 2018
New (and more likely) location identified. Map updated via a comment on the site
Additional updates to Donegal – 8 August 2018:
Photographs by Conor Corbett added to:
Addition of another USAAF map – 8 August 2018
Map is of the Pennines but includes the east coast of Ireland and the LOP numbers are identified. See here. Map is by kind permission of the Oregan Chapter 8th Air Force Historical Society.
Update on signs in Kerry – 7 August 2018
EIRE38 – Sign on the Blasket Islands
A number of people have been good enough to bring my attention to two signs in Kerry which I was not aware of.
MAJOR UPDATE 6 AUGUST 2018 – EIRE 8, Bray Head, Wicklow
The Eire sign at Bray Head has been revealed following a major fire there in July 2018. The record for the sign is here, and the map has been updated accordingly.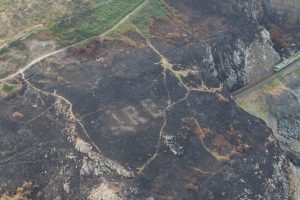 Key pages:
A map of still extant Neutrality signs is on Google Maps here.
Images of the signs visible on Google and Bing Maps are sorted by county here.
Updates to the site are posted here.
Introduction to this project:
Many years ago, in a piece about the lighthouses on the coast of Brittany, I saw a comment that the lighthouses were to tell the mariner where he was, and not just to warn him against rocks. In 1942-1943, a large number of signs were placed along the Irish coast to tell pilots where they were.
Today, we take high technology navigational aids for granted. In the 1940s, GPS did not exist. In 1942-43, close to the locations of the coastal watch huts, signs were placed on the Irish coast to identify the land below as Eire, and not, for example, Great Britain or Northern Ireland. Shortly after the EIRE signs were constructed, mostly by the volunteers of the local Look Out Post (known in the documentation as LOPs), the identifying number of the relevant LOP was added, enhancing the signs' value as a navigational aid. A list of LOPs, their locations and numbers were given to allied pilots thus allowing themselves to reduce the risk of crashing in the Republic of Ireland, and also, giving them greater detail on where they were.
Currently available information suggests the signs were really only of use during the day, although according to Michael Kennedy's work on the Coastal Watch (Guarding Neutral Ireland, 2009), fires may have been lit near some of the signs during winter nights.
Approximately 85 of these signs were built. I don't have an exact number. There were 83 coastal watch stations and I believe that at least two sites constructed two signs, namely Achill Island and Slieve League. In 2012, realising there was no list of the still existing signs, I decided to locate as many of them as could still be seen from commercially available satellite imagery. I have been fortunate to locate more than 30, all on the western coastline. The largest number of them are still to be seen on headlands in Donegal, where the greatest number of them have survived. Mayo has a significant number also
In researching this, I have learned a great deal about the coastal watch in Ireland during the Emergency, that great language by which we engaged in the myth that we were not at war. I have spent a great deal of time reviewing maps, satellite photographs and aerial photographs. A certain number of people have been very helpful in terms of locating these signs. Some of these people, I will not even know their real names.
Time is not kind to these installations but a number of them in Mayo, Donegal, Cork and Clare have been recently renovated.